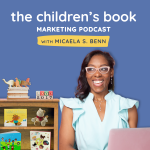 Welcome to the Children's Book Marketing Podcast! In this episode, host Micaela S Benn takes us on a journey through the world of self-published children's book authors and the importance of branding and content in reaching readers.
Micaela leads a team that provides marketing services and coaching exclusively to self-published children's book authors. Amidst the global pandemic, this episode reflects on the wake-up call it has been for all of us and how it has brought about unexpected changes. It also explores the different roads authors may find themselves on during this time and celebrates those who have been able to elevate their businesses and thrive.
Along the way, receive inspiring stories of change agents who rose to prominence during times of crisis and discusses their lasting impact. Get ready to learn proven marketing strategies that will help you take your publishing endeavors to new heights. Welcome to episode 1 of season 1 of the Children's Book Marketing Podcast!
How This Episode Flows:
[00:01:05] Why I choose to help authors diversify bookshelves.
[00:06:49] To understand the magnitude of change right now, let's look at a few iconic change-gents during crises of the past.
[00:12:36] What this podcast is all about: How to stop wasting time on social media, gain control, and sell more books.
[00:14:23] Strategies to get book noticed, collaborate, and monetize.
Some of the resources that shared in the episode are below:
Rate, Review, and Subscribe
If this thought has crossed your mind as well, then please take a moment to rate and review the show on Apple Podcasts! This helps me support more self-published children's book authors – just like you – to give them a better handle on how to use marketing to reach more of their ideal readers.
It takes just 2 minutes. All you have to do is click here, scroll to the bottom to select five stars, and then choose 'Write A Review.'
Oh, and one last thing. If you haven't already subscribed to the podcast, I'd like to encourage you to do that today, too. I want you to know first when new episodes release, since there's a chance you may miss out if you're not getting those pulled into your podcast feed automatically. Click here to subscribe to Apple Podcasts.