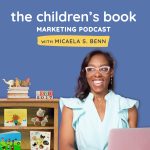 Welcome to the Children's Book Marketing Podcast, where we help self-published children's book authors navigate the world of branding and marketing to connect with readers, sell more books, and build a thriving business.
In today's episode, we'll be discussing a highly requested topic: marketing during the pandemic. We'll explore how the pandemic has affected readers' buying habits, the changes in parents' lives, and why reading fundamentals are crucial. Marketing during these challenging times may require adaptation, but it also presents opportunities for connecting with your audience in new and meaningful ways.
We'll cover the importance of delivering books in formats that readers prefer, using social media to showcase reading moments, and enhancing your online presence to drive direct sales. Join me as we dive into strategies to engage with readers and sell more books during the pandemic. Stay tuned for valuable insights and actionable tips on the Children's Book Marketing Podcast. Let's get started!
How This Episode Flows:
[00:02:23] Why connecting with readers though children's book marketing has become more challenging.
[00:05:56] The reason why waiting for physical deliveries is more common now, and how book sales have increased during the pandemic.
[00:10:22] How to encourage interactive learning to adapt to new realities.
[00:15:02] Way that reading boosts kids' creativity, communication, and brainpower.
Some of the resources that she shares in the episode are below:
Rate, Review, and Subscribe
If this thought has crossed your mind as well, then please take a moment to rate and review the show on Apple Podcasts! This helps me support more self-published children's book authors – just like you – to give them a better handle on how to use marketing to reach more of their ideal readers.
It takes just 2 minutes. All you have to do is click here, scroll to the bottom to select five stars, and then choose 'Write A Review.' Oh, and one last thing. If you haven't already subscribed to the podcast, I'd like to encourage you to do that today, too. I want you to know first when new episodes release, since there's a chance you may miss out if you're not getting those pulled into your podcast feed automatically. Click here to subscribe to Apple Podcasts.