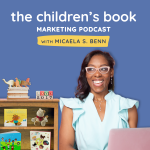 Welcome back to the Children's Book Marketing Podcast, where we delve into the world of children's book writing, publishing, and marketing. In today's episode, we have a very special guest, Linda Peavey, who is an expert in grant writing and securing funding for small businesses, including children's book authors. Linda will be sharing valuable insights on how to find the right grant funding to support your children's book business and extend your impact in the market.
During this conversation, we explore the importance of aligning your mission with that of Your Perfect Funders, how to scope your operating budget to determine your funding needs, and the various resources available to navigate the grant writing process. We will also explore the misconception that grants are only for nonprofits and how for-profit organizations, and children's book authors, can tap into the millions of dollars in grant funding that is now available.
Linda's wealth of knowledge and experience will help you understand the grant world, its requirements, and how to successfully secure grants for your children's book business. Whether you're just starting out or looking to expand your reach, this episode is packed with invaluable tips and resources that will empower you to make your writing dreams a reality.
So grab a notebook and pen, because this episode is filled with insights that will revolutionize the way you approach your children's book business and open new doors for funding opportunities. Let's dive in and discover the world of grant writing with Linda Peavey.
Over a dozen free resources were mentioned during the episode is the marketing budget that will help you figure out how much to ask for in grant funds. You can find that and other free resources mentioned during the episode below:
Budget: 5 Categories For Tracking What You Spend on Marketing Your Children's Book Budget
Lipav Consulting, Linda Peavy's Website
The Foundation Directory Online
Barbara Demming Memorial Fund Grant
The Society of Children's Book Writers and Illustrators
The Children's Literature Association
The American Society of Journalist and Authors
Great Lakes African-American Writers Conference
Your feedback is welcomed and so are your reviews! Share yours on Apple Podcasts to let us know the first thing you'll do to take action with all this amazing new information.