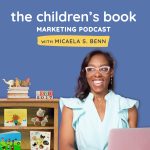 Welcome back to the Children's Book Marketing Podcast! In today's episode, we dive into the inspiring story behind the creation of this podcast. Discover how the global pandemic and social unrest motivated led me to become an advocate for diversity in children's books.
Also, find out how my life-changing conversation with a self-published author open a new avenue to purpose in a somewhat familiar place. But before we start, though, let's reiterate who this podcast is for and why it was created. If you're an independent author who has chosen not to go the traditional publishing route for your children's book, then you are in the right place! This means that you understand the responsibility, freedom, and flexibility of marketing your own books, and if you're just warming up to all that, then allow this podcast to guide you.
As both a self-published author and an experienced marketer with a background in corporate product management, join me to gain a unique perspective to children's book marketing. Throughout this episode, I'll share expertise, which drawns from leading in various industries, such as digital print and paper distribution, telecom, and supply chain management for global companies.
My mission is to help indie authors in telling meaningful stories about culture, history, and perspectives that are often overlooked, promote understanding, and empathy. So, get ready to explore proven marketing strategies and join me on this journey of self-publishing success.
00:02:08 Why independent creators have more freedom to market your own books.
00:06:48 What happens when promoting diverse stories is a form of unity and activism.
00:11:08 Why it's up to Creatives to address the lack of representation in children's books.
00:14:08 How I pivoted during pandemic into children's books.
00:20:00 Why a content creation agency for children's books was launched unexpectedly and just after publishing my own children's book.
Some of the resources that she shares in the episode are below:
Rate, Review, and Subscribe
If this thought has crossed your mind as well, then please take a moment to rate and review the show on Apple Podcasts! This helps me support more self-published children's book authors – just like you – to give them a better handle on how to use marketing to reach more of their ideal readers.
It takes just 2 minutes. All you have to do is click here, scroll to the bottom to select five stars, and then choose 'Write A Review.'
Oh, and one last thing. If you haven't already subscribed to the podcast, I'd like to encourage you to do that today, too. I want you to know first when new episodes release, since there's a chance you may miss out if you're not getting those pulled into your podcast feed automatically. Click here to subscribe to Apple Podcasts.