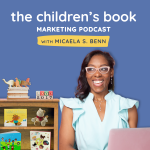 Welcome back to the Children's Book Marketing Podcast with your host, Micaela S Benn!
In today's episode, we dive into the world of content marketing and how it can help you reach your ideal readers. This episode was inspired by a poll conducted with authors on Instagram and Facebook, ensuring that we deliver the content you want and need.
As we continue our series on content marketing, we'll explore the different forms of digital content and discuss effective ways to communicate with your audience. But first, let's understand why it's crucial to know your audience and how targeting the right influencers can lead to successful children's book marketing.
We'll also address the common pitfalls of generic advertising messages and the importance of creating a thorough profile of your ideal reader. Plus, you'll be able to complete a helpful exercise to uncover valuable insights about your target audience. So, get ready to take your marketing efforts to the next level and connect with the right readers for your children's books.
Let's dive in! But before we begin, a quick reminder to show your support by becoming a patron on Patreon at www.patreon.com/micaelasbenn. And don't forget to connect with us on Instagram for updates.
00:02:00 Learn about content marketing through email.
00:11:27 Your marketing efforts should always keep your ideal readers in mind.
00:15:29 Target specific audience, not all parents.
00:21:32 Connect with targeted audience, build lasting relationships.
00:23:57 Profile your ideal reader, study them carefully.
Some of the resources that shared in the episode are below:

Rate, Review, and Subscribe
If this thought has crossed your mind as well, then please take a moment to rate and review the show on Apple Podcasts! This helps me support more self-published children's book authors – just like you – to give them a better handle on how to use marketing to reach more of their ideal readers.
It takes just 2 minutes. All you have to do is click here, scroll to the bottom to select five stars, and then choose 'Write A Review.'
Oh, and one last thing. If you haven't already subscribed to the podcast, I'd like to encourage you to do that today, too. I want you to know first when new episodes release, since there's a chance you may miss out if you're not getting those pulled into your podcast feed automatically. Click here to subscribe to Apple Podcasts.