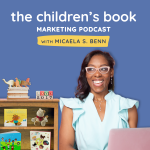 Hey there! Welcome back to the Children's Book Marketing Podcast, where we help self-published children's book authors use branding and content to connect with readers, sell more books, and grow their business.
In today's episode, we're diving into the topic of social media overwhelm. We'll discuss why it's not necessary to be on every platform that exists and how to choose the right platforms for your target audience. Plus, we'll share some strategies to avoid getting overwhelmed by social media as an author.
But before we get started, I just want to express my gratitude for all the support this podcast has received. It's truly been a labor of love, and I'm thrilled to be able to provide valuable insights and strategies to help fellow children's book authors succeed.
So grab a cup of coffee or your favorite beverage, and let's jump into this episode of the Children's Book Marketing Podcast!
00:01:09 Podcast success, decision makers, communication, social media.
00:04:27 Simplify and summarize: Focus on social media platforms where parents are active.
00:11:09 Focus on limited social media platforms for better results.
00:14:57 Concentrate on few online platforms for success.
Some of the resources that she shares in the episode are below:
Join The Community https://children-s-book-marketing-podcast.ck.page/fa7b856d77
Free Ebook 16 Places to Sell https://children-s-book-marketing-podcast.ck.page/9c04585450
Free Budget Workbook https://children-s-book-marketing-podcast.ck.page/440ab737e7

Rate, Review, and Subscribe
"I cannot WAIT to see take these new ideas into my children's book marketing plan!"
If that sounds like you, then please take a moment to rate and review my show on Apple Podcasts! This helps me support more self-published children's book authors – just like you – to give them a better handle on how to use marketing to reach more of their ideal readers.
It takes just 2 minutes. All you have to do is click here, scroll to the bottom to select five stars, and then choose 'Write A Review.'
Oh, and one last thing. If you haven't already subscribed to the podcast, I'd like to encourage you to do that today, too. I want you to know first when new episodes release, since there's a chance you may miss out if you're not getting those pulled into your podcast feed automatically. Click here to subscribe to Apple Podcasts.