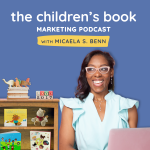 Welcome back to another exciting episode of the Children's Book Marketing Podcast! I'm your host, Micaela S Benn, and today we're diving into a topic that every self-published children's book author has pondered: should you go with print on demand or go direct to a printer?
This decision can have a big impact on your publishing journey, and I've been doing some serious thinking about it as I prepare to get my own books printed. In this episode, we'll explore the pros and cons of both options, discuss how to mitigate risks when ordering and storing inventory, and highlight the importance of quality control and building relationships with experienced printers.
Stay tuned for some valuable insights and a helpful resource that will guide you in making the best decision for your book.
So, grab your notepad, because you won't want to miss a single detail.
Learn what you need to know about making the right production decision for printing children's books.
Here's what this episode covers:
– Learn what you need to know about producing your children's books with Print On Demand versus going Direct To Printer.
– Find out how going direct to the printer boosts your earning potential significantly per book sold and what to do with that extra revenue.
– Find out which partners are critical for processing online orders, book fulfillment, and shipping to your readers.
Some of the resources that she shares in the episode are below:
Support the show on Patreon
Gain access to Children's Book Social Media Marketing Made Easy

Rate, Review, and Subscribe
Enjoying the show? Then please take a moment to rate and review my show on Apple Podcasts! This helps me support more self-published children's book authors – just like you – to give them a better handle on how to use marketing to reach more of their ideal readers.
It takes just 2 minutes. All you have to do is click here, scroll to the bottom to select five stars, and then choose 'Write A Review.'
Oh, and one last thing. If you haven't already subscribed to the podcast, I'd like to encourage you to do that today, too. I want you to know first when new episodes release, since there's a chance you may miss out if you're not getting those pulled into your podcast feed automatically. Click here to subscribe to Apple Podcasts.