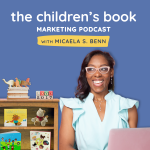 Welcome back to the Children's Book Marketing Podcast! I'm your host, Micaela S Benn, and today we have an exciting episode in store for you. In season 1, episode 8, we will be diving into the fascinating world of book series and how they can be a game-changer for authors.
Are you considering releasing your children's book as a series or wondering when is the best time to release the books?
Well, you're in the right place!
If you've ever considered whether to release your children's book on its own or create from your first book a series of children's books to follow, then this episode is for you.
Today, we'll be exploring the benefits of creating book series, ranging from building a loyal fan base to maximizing the potential for merchandise opportunities. We'll also discuss real-life examples, tips, and strategies for creating and marketing book series that will captivate young readers' hearts and minds.
So, if you're ready to take your children's book to new heights and leave a lasting impact on young readers, then sit back, relax, and let's dive into episode 8.
I'm a firm believer of the strength that a series has because of its ability to provide more than one glance at the characters, the themes, and the potential for leaving a legacy for a generation of readers.
How do you decide whether a series is for you?
Well, if you want to leverage your writing skills into a body of work that you can self-publish, now is the time to listen up and take notes.
What you need to know in order to decide if a series is the right avenue for you is covered here:
Here's what you'll learn:
– 7 reasons why it's a good idea to create from your initial children's book a series of books to follow.
– What a huge difference it makes to release your children's books over time as opposed to all at once.
– Why it's safe think bigger about your journey as a self-published author when you have a series of children's books.
Links mentioned in this episode:

Rate, Review, and Subscribe
"Micaela's podcast for indie children's book authors is helping answer all the marketing and planning questions that have been swimming around my head!"
~ A review left by drobwel on March 29, 2021
If this thought has crossed your mind as well, then please take a moment to rate and review my show on Apple Podcasts! This helps me support more self-published children's book authors – just like you – to give them a better handle on how to use marketing to reach more of their ideal readers.
It takes just 2 minutes. All you have to do is click here, scroll to the bottom to select five stars, and then choose 'Write A Review.'
Oh, and one last thing. If you haven't already subscribed to the podcast, I'd like to encourage you to do that today, too. I want you to know first when new episodes release, since there's a chance you may miss out if you're not getting those pulled into your podcast feed automatically. Click here to subscribe to Apple Podcasts.