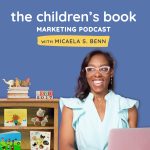 Hey there, book enthusiasts and aspiring children's book authors! In this episode, we're diving into the things you need to know about pre-marketing for self-published children's books.
So, what exactly is pre-marketing? Well, it's that critical phase between starting the self-publishing process and having a place to send eager readers to buy your book. We'll be covering everything from creating a strategic list of potential collaborators to borrowing someone else's audience for greater reach.
But that's not all! We'll also explore the importance of producing alternative versions of your book, like audio books, American Sign Language translations, and translations in different languages. Plus, we'll chat about the unexpected setbacks and delays that can arise during the pre-marketing phase and how to navigate them with transparency and grace.
Here's what you'll find in this episode:
A clear explanation of the 3 marketing stages you'll work through as you launch your children's book
Details about the first marketing stage of launching your children's book, Pre-marketing Stage, and how it's not the same as Pre-sale; although most authors think they're one in the same.
How I used a huge setback to get creative about deciding what kind of merchandise to release with my children's book.
So, grab your favorite cup of tea, get cozy, and join us on this journey through this early stage in the author journey. It's time for some light, camera, and action – let's dive in!
Links mentioned in this episode:

Rate, Review, and Subscribe
Amazing Podcast!
"This podcast is amazing, it is the best source of information I've gotten regarding marketing my new book. The creator Micaela is literally giving us free advice that will actually work, which I appreciate a ton! I highly recommend listening if you're an author of any kind and even if you think you know how to market your book(s)."
~ A review left by Calebk24 on May 11, 2021
If this thought has crossed your mind as well, then please take a moment to rate and review my show on Apple Podcasts! This helps me support more self-published children's book authors – just like you – to give them a better handle on how to use marketing to reach more of their ideal readers.
It takes just 2 minutes. All you have to do is click here, scroll to the bottom to select five stars, and then choose 'Write A Review.'
Oh, and one last thing. If you haven't already subscribed to the podcast, I'd like to encourage you to do that today, too. I want you to know first when new episodes release, since there's a chance you may miss out if you're not getting those pulled into your podcast feed automatically. Click here to subscribe to Apple Podcasts.